Golden Wheat - A Taste of Kerala
July 28, 2023
---
Nestled in the heart of Windsor, Ontario, Golden Wheat is a culinary gem that takes its patrons on a delightful journey through the authentic and aromatic flavors of Kerala, South India. Founded by four partners, Jobin, Shinto, Vinil, and Jibin, the restaurant has swiftly carved a niche for itself in the gastronomic landscape by tantalizing the taste buds of food enthusiasts.
Jobin Joseph's path to the culinary world is a fascinating tale of passion and perseverance. Originally working as a nurse in both the United Kingdom and India, he found his true calling in the art of cooking, especially the rich and diverse cuisine of his homeland, Kerala. This passion eventually led him to take the bold step of opening his first restaurant in London two years ago. The name "Golden Wheat" was chosen with care, symbolizing the aspiration to cater to all of India, including North India, and reflecting the abundance and richness of Kerala's culinary heritage.
Shinto, the heartbeat of Golden Wheat, brings a wealth of culinary expertise to the table. As a seasoned professional chef with seven years of experience and a Bachelor's degree in Hotel Management from Bangalore, India. Shinto has honed his skills and refined his craft to perfection and his formal education in Operations Management at Fanshawe College further complements his culinary prowess. Shinto's relentless pursuit of excellence in the culinary arts and his ardent desire to specialize in South Indian cuisine have made him an invaluable asset to Golden Wheat's culinary team.
The resounding success and appreciation in London spurred Jobin and his partners to explore new horizons. It was during this journey that they set their sights on the vibrant city of Windsor. A conspicuous void in the culinary landscape of Windsor, with no dedicated Kerala restaurants, presented a compelling opportunity for Golden Wheat to introduce the authentic tastes of Kerala to the local community.
However, this venture was not without its share of challenges. The most significant hurdle Golden Wheat faced was sourcing skilled South Indian chefs. The scarcity of authentic culinary talent in the region demanded meticulous efforts to build a team that could preserve the essence of Kerala's dishes while catering to local preferences. Hence, the preference for a South Indian chef, not merely for culinary expertise but also for effective communication that forms an integral part of serving the soul-satisfying dishes from Kerala.
Golden Wheat takes immense pride in its South Asian heritage, which is ingrained in every aspect of its business. To foster deeper connections with the local Indian community, the restaurant actively engages in networking events with various Indian groups, enriching the cultural bond and embracing diversity.
The menu at Golden Wheat is a symphony of flavors, meticulously curated to offer a culinary extravaganza to its guests. From the ever-popular Dosa to the mouthwatering Thalassery chicken biryani, the aromatic prawn curry, and a plethora of other traditional and innovative dishes, each culinary creation pays homage to the rich heritage of Kerala's gastronomy.
Like any venture, Golden Wheat encountered regulatory challenges, particularly in bringing chefs from India. Overcoming these hurdles with tenacity, Jobin and his team continued to ensure that their offerings remained true to their roots, providing an exceptional dining experience to their cherished guests.
For those seeking an immersive experience in the delightful flavors of Kerala or desiring to explore the essence of South India in Windsor, Golden Wheat stands as the ultimate destination. With Jobin Joseph's unwavering dedication to authenticity, warm hospitality, and an ever-evolving menu that consistently surprises and delights, Golden Wheat promises an enriching and unforgettable culinary odyssey.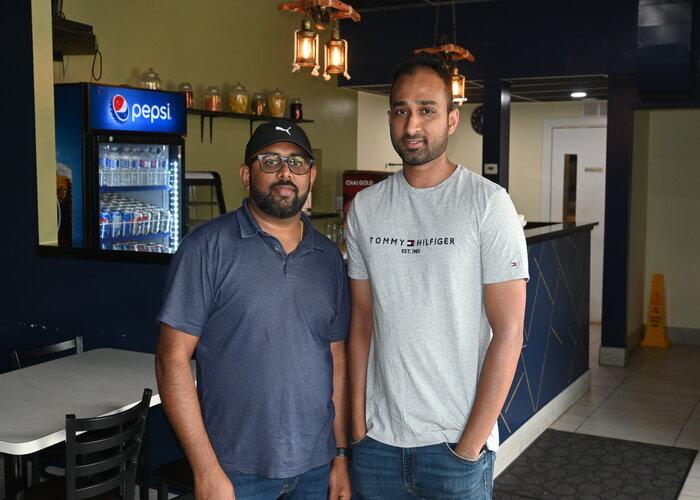 < Back To News